The Crosbie Construction Story.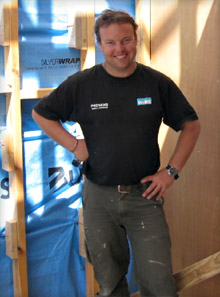 Our mission is to supply specialised quality workmanship and personalised service on time, first time and at competitive prices.
Crosbie Constructions has been running as an independent company since 2005 when it was formed by Benn Crosbie. Benn Crosbie is a registered building practitioner and has worked in the building industry for over fifteen years. His background is in carpentry and joinery and he has spent many years learning the craftsmanship involved in period style homes.
Benn began his carpentry apprenticeship aged 16. He worked as a contract carpenter with many different building companies. He has gained much insight from observing how different builders manage their jobs. In 2004 Benn started the process towards becoming registered as a building practitioner. He completed his "diploma of building construction" at Homesglen TAFE. In 2005 Benn underwent the examination process required to become a registered builder and was immediately successful. Crosbie Constructions was born and has gone from strength to strength since this time.
Benn's many years in the building industry have enabled him to gather together a reliable group of tradespeople. His background in carpentry means that he is able to do the work himself and be on the building site watching each project with great care.
Benn particularly enjoys working in period style homes but has had vast experience with varied types of construction. He also has an interest in meeting environmental standards and is keen to make homes as energy efficient as possible.
Insurance / Guarantee / Warantee
Crosbie Constructions provides insurances for all contract workers and tradespeople who work on each job. Crosbie Constructions carries both construction insurance and public liability insurance. Benn prides himself on employing fully qualified contract workers; master painters, A grade electricians, fully licensed plumber and so forth. All homes built by Crosbie Constructions are supplied with 7 year home warranty insurance.